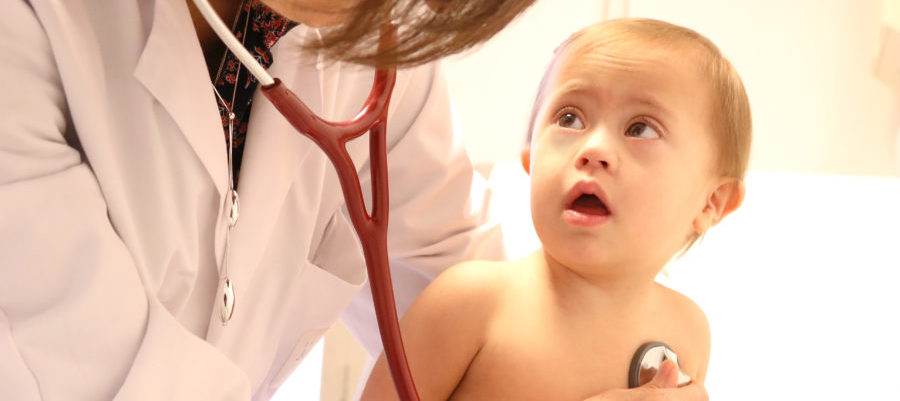 The Jérôme Lejeune Institute provides lifelong global management for children and adults with Down syndrome or another intellectual disability of genetic origin.
Diagnosis
Each patient undergoes an initial complete medical evaluation, to identify the disease, its causes and consequences, and to make it possible to prevent the possible associated complications. We do not yet know how to cure the intellectual disability. However, we do know how to prevent or treat most of the associated multiple disabilities, such as cardiopathy, epilepsy, sleep apnea and language problems. The management of these associated conditions greatly improves quality of life.
Lifelong medical follow-up
The multidisciplinary team of the Jérôme Lejeune Institute, which is composed of specialized doctors and paramedics, provides patients with global, personalized follow-up. Through a unique medical dossier, that accompanies the patient throughout his or her life, patients can benefit from lifelong follow-up.
A global evaluation
In addition to regular medical follow-up, a complete evaluation may be relevant at certain stages in the person's life. Generally performed in close collaboration with the speech therapist, the neuropsychologist and the doctor, this evaluation can be useful for guiding key decisions as to what would be most appropriate for the person concerned at key steps in his or her life: starting primary school, choice of school, becoming an adult, career guidance, choice of an appropriate place to live, aging, etc.
Advice
We take the time, during each consultation, to listen to the questions of the patients, their parents and siblings, and to provide answers to those questions, at all ages during the patients' lives. This dialog with the doctors and all the professionals involved in patient care and medical follow-up is essential.