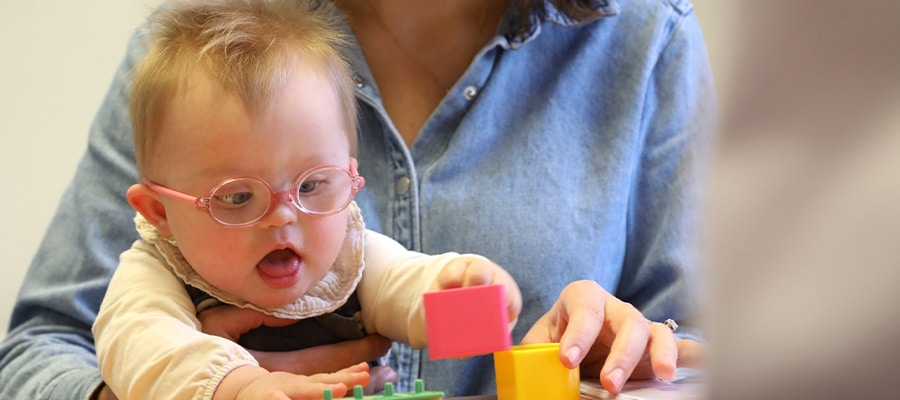 THE INSTITUTE'S RESEARCH PROGRAMS
Respire 21
Demonstrating the value of early screening and treatment of obstructive sleep apnea syndrome (OSAS) in infants with trisomy 21
Monitoring under way for the 2nd group

In collaboration with:
Necker Sick Children's Hospital
This project is based on the following observations:
OSAS is very common: it occurs in 30-50% of children with trisomy 21.
Since the clinical signs are not noticeable, it is currently under-diagnosed and hence under-treated in infants with trisomy 21.
Recent studies have shown the deleterious effects of OSAS on neurocognitive development and on behavior.
It is therefore very likely that many children with trisomy 21 do not achieve optimum cognitive development due to insufficient brain oxygenation.
Our hypothesis is that systematic screening combined with optimum correction of OSAS during the first 3 years of life could significantly improve their neurocognitive prognosis, behavior, autonomy, and integration into society.
Description
The study involves 80 children. It started in the 3rd quarter of 2017 and will last 5 years (2 years' enrolment and 3 years' monitoring).
It brings together the Jérôme Lejeune Institute and Necker Sick Children's Hospital with Professor Brigitte Fauroux, head of the pediatric non-invasive ventilation and sleep unit – France's leading unit for screening and treating sleep apnea in children and infants. Professor Fauroux is assisted by Dr Alessandro Amaddeo.
The study also includes two sleep technicians to carry out home polysomnographies: Fabien Picard and Sonia Chattaoui.
Study Extension
The Jérôme Lejeune Institute and Necker Sick Children's Hospital have decided to continue monitoring the first children enrolled on the study at the age of 3 years old and whose OSAS was screened and treated late.
The children involved in this extension will be seen again at the Jérôme Lejeune Institute when they are 5 years old, as part of their annual follow-up medical consultation.
To check that their OSAS has not reoccurred, they will have another polysomnography as part of their routine care in the pediatric non-invasive ventilation and sleep unit at Necker Sick Children's Hospital.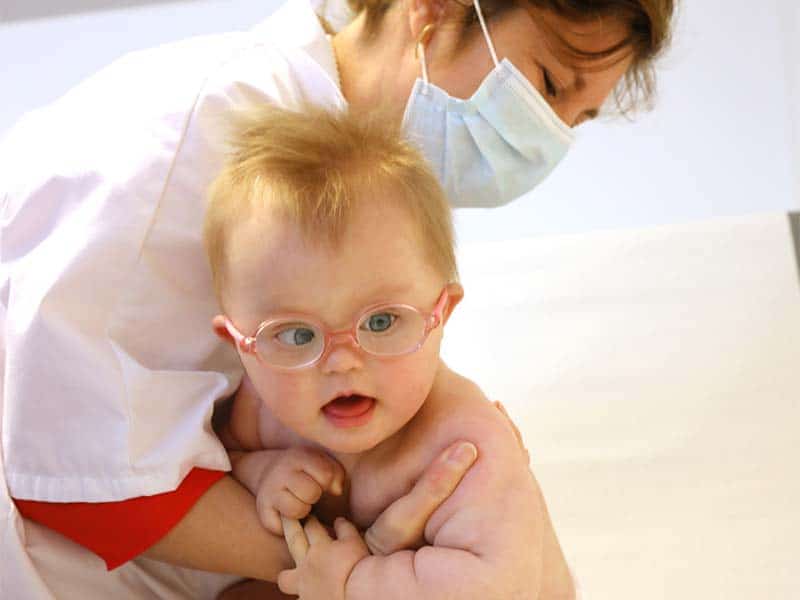 Frequently Asked Questions About RESPIRE 21
This specific feature is linked to the protocol for the RESPIRE 21 research program: for each child enrolled, a medical technician specializing in home polysomographies comes to the parents' home. This ensures that the polysomnography is carried out in the best possible conditions during the child's sleep at the family home. This technician is a team member of the pediatric non-invasive ventilation and sleep unit at Necker Sick Children's Hospital. The sleep technicians' geographical area is limited to the Ile-de-France region.
For several years, the Institute's doctors have been constantly concerned to screen for sleep apnea: for each infant, child and adult who comes to the Institute, the doctor is looking for the signs of nocturnal or diurnal sleep apnea and hence asks the parents or accompanying adults detailed questions. If sleep disorders are suspected, a sleep recording is organized close to your home. If apnea is detected, treatment and management are offered.
Do you feel urgently in need of diagnosis and treatment? Do you regret that your child was not diagnosed when (s)he was younger?
Regardless of patients' age, everyone benefits from the research: patients always benefit from a research project's scientific impact, even if the project is for a specific age range in order to homogenize the group.
In the case of obstructive sleep apnea syndrome (OSAS), it is never too late to make a diagnosis or implement appropriate treatment (first ENT, potentially followed by a medical device). If patients are diagnosed with OSAS, treatment will help their cognitive functions (memory, attention) and quality of life (tiredness, irritability, etc.), regardless of the patients' age.