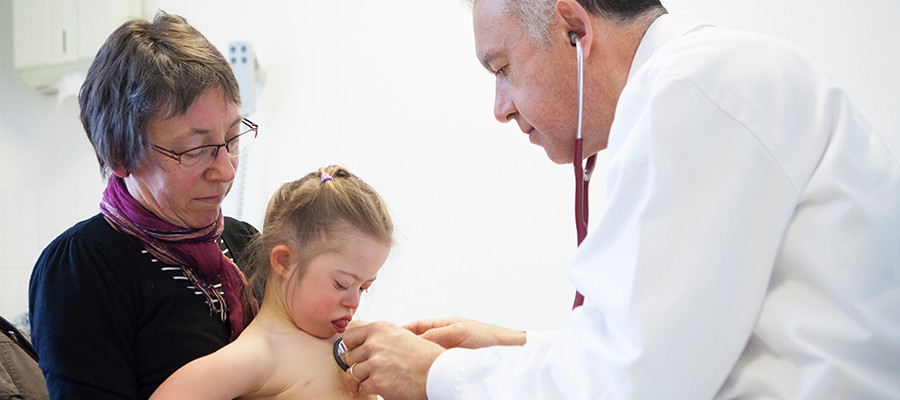 The Jérôme Lejeune Institute is at the service of people having a genetic disease with intellectual disability. It fulfills its three missions — Care, Research, Training — in a unique and original manner.
A consultation that "takes its time"
The Institute proposes consultations lasting one hour.
That's the time it takes to make a good diagnosis, to have a detailed discussion and to perform a clinical examination, to make sure that nothing is missed, to avoid unnecessary additional examinations, to evaluate needs and to find concrete solutions for effective daily management.
It's also the time it takes to listen, share, give advice and assistance, the time to discuss the various domains of the patient's life — medical, social, cultural, sporting, and spiritual aspects, for example — the time it takes to win over very anxious patients.
It's the time we take to see the patient as a unique person, with his or her own difficulties, but also with his or her own capacities.
Lifelong medical follow-up
The team at the Institute offers lifelong follow-up, without interruption (same premises and same patient dossier), with appropriate healthcare professionals at all ages, whereas most structures impose age barriers. This approach enables us to assist people at key steps in their lives: when they start primary school, during adolescence, in their emotional relationships, when they become adults, and as they age and retire, for example.  
This situation also provides the specialists of the Institute with an all-encompassing understanding of the people they see and their syndromes. The pediatricians know what happens to the children they followed and the geriatricians know the entire history of people they see.
The same individual medical file accompanies the patient throughout his or her entire life. From pediatrician to geriatrician, over the years that pass and with changes in specialty, the same file is enriched, completed, and transmitted.
Management by a specialized multidisciplinary team
Pioneering doctors in the domain of Down syndrome, younger specialized doctors and paramedics make up the multidisciplinary team of the Institute: pediatricians, a child neurologist, a general practitioner, geneticists, geriatricians, psychiatrists, a neurologist, an orthopedic and traumatology surgeon, neuropsychologists, a psychologist, a speech therapist, a dietician, nurses and a social worker.
Through team work, we are able to appreciate the richness of these patients and to compare practices. In addition to daily exchanges, these professionals hold weekly meetings to share their views concerning the patients. Everyone's opinion counts and none of these professionals work in isolation.
A close association of care and research
At the Institute, care and research are intricately linked.
Regular medical follow-up is, of course, indispensable for the prevention and treatment of complications associated with these diseases. It also favors improvements in quality of life, autonomy and cognitive development. But our ambitions are much grander than that!
Research is a constitutive element of the Institute. Thanks to the support provided by the Jérôme Lejeune Foundation, our clinicians are able to dedicate half their time to research. This research is directed by the patients, performed on the patients and ultimately for the benefit of the patients! Intellectual disability is a challenge!
A uniquely rich biobank
The biobank of the Institute, with its 7,594 samples and associated clinical data in the domain of genetic diseases with intellectual disability, has a potential unique worldwide for all sorts of research projects.
A recognized professional training organization
With a view to facilitating the optimal management of all people having genetic diseases with intellectual disability, the medical and paramedical team of the Institute is keen to share its expertise with families and with healthcare professionals specializing in mental disability