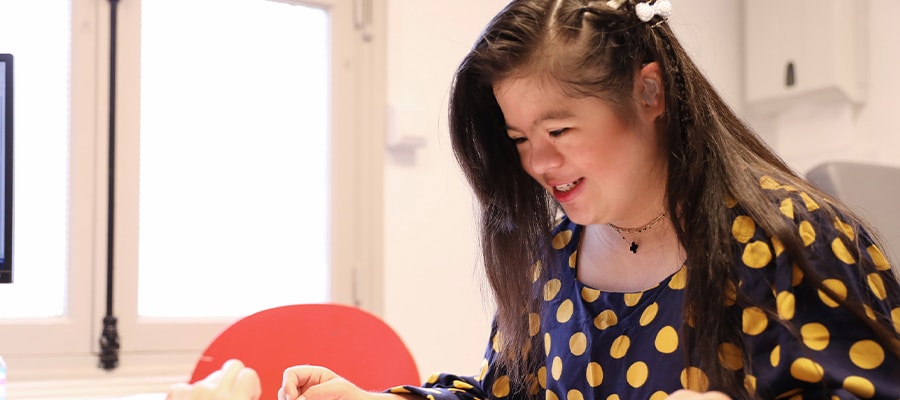 RESEARCH PROGRAMS CONDUCTED BY THE INSTITUTE
SLEEP
Studying the impact of Alzheimer's disease on the sleep of adults who have Trisomy 21

In collaboration with:
Consortium Horizon 21 and Paris Saint-Joseph Hospital
Purpose of the study 
Alzheimer's disease increases the risk of sleep disturbances and obstructive sleep apnea. These disturbances result in the aggravations of cognitive and behavioral disorders of those concerned.
The main objective of this study, led by the European Horizon 21 Consortium, is to study the relationship between Alzheimer's disease and sleep disorders in adults with Trisomy 21.
The objectives here are to:
Assess the frequency and impact of sleep disorders
Assess the associations between sleep disorder, age and body mass index (BMI).
The sub-objective of the study is to compare, through the data collected, the quality of sleep of patients with Trisomy 21 who have Alzheimer's disease with those who have not (retrospective data).
How is the study conducted ?
This multicenter study, initiated in the framework of the Horizon 21 Consortium, is conducted at Jérôme Lejeune Institute in collaboration with 4 research centers, including one in Spain acting as project coordinator. For the purposes of the study, 15 adult patients who have Trisomy 21 and Alzheimer's disease should be enrolled in the Institute as of the first quarter of 2023.
The patients will be seen at Jérôme Lejeune Institute for a baseline visit, during which neurological, neuropsychological and medical data will be collected.
A second baseline visit will take place at Saint-Joseph Hospital (up to 3 months after enrollment) in order to assess the patient's sleep by means of a nocturnal polysomnography. This exam accurately records body movement and allows assessing the quality of the patient's sleep.
How to participate in the study ?
Participants, aged 18 or older, or their legal representative, will be expected to give their informed consent and make themselves available for visits scheduled as part of the study.
If you are interested or know someone who might be, please contact Jérôme Lejeune Institute at +33 (0)1 56 58 63 00.